This is my dear daughter-in-law's recipe, very much a family favorite. It's also how she gets her husband, my son, to eat his vegetables, and she's much more successful at that than I ever was. He absolutely loves this dish!
Mandy's Red Potatoes and Green Beans
red or new potatoes, as many as needed
green beans, fresh or frozen
salt and pepper
garlic - fresh or powdered
pinch of sugar
How to do it . . .
Wash potatoes and slice or leave whole. Combine all other ingredients to taste and bring to a boil. Boil until potatoes are soft.
This is a great side dish or meal, especially in the cold! ENJOY!
Stephen and Mandy got engaged last Christmas, which was the first year I had an almost-daughter to help me in the kitchen - and it was wonderful - so I'm really looking forward to this year, now that she's "official." In fact, from now on I think I'll make it her official duty to bring Potatoes and Green Beans for Christmas dinner. Yes, I really like that idea. Mandy, are you reading this? I'll bake the pumpkin pies if you'll bring the Potatoes and Green Beans!
Care to share the recipe? Pin it, Yum it, or click below to buy it on a pretty greeting card!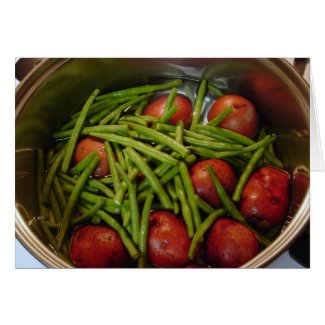 Green Beans and Red Potatoes Recipe Note Card
Create card
designs on Zazzle